E-MetroTel Services in St. Louis

The E-MetroTel's UCX IP PBX Communication System delivers the latest unified communication features such as fixed-mobile convergence, home working, call recording, and Meet-Me Conferencing including support for SIP compliant telephones and cost effective SIP trunks. With its in-built support for Heritage IP & Digital phones, it is the perfect cost-effective upgrade for the many installed Nortel systems.
Businesses today need to save money and do more with less. The E-MetroTel UCx range of communications systems is a cost-effective solution for your business. Supporting a wide array of business features, new SIP compliant devices, SIP trunks, and Heritage IP & Digital phones, there's a fit for all small and large business requirements.
E-MetroTel InfinityOne gives you complete collaboration. From voice, presence, one to & team Messaging. This solution is a cost-effective and simple add-on to your existing phone system. Contact us today for more information!
Employee Benefits:
More productivity
Flexible working hours
Avoid traffic & long commutes
Included:
Softphone
One to One & Team Messaging
Presence & Status
Devices:
Mac
PC
iPhone
Android (Coming Soon)
Easily added on: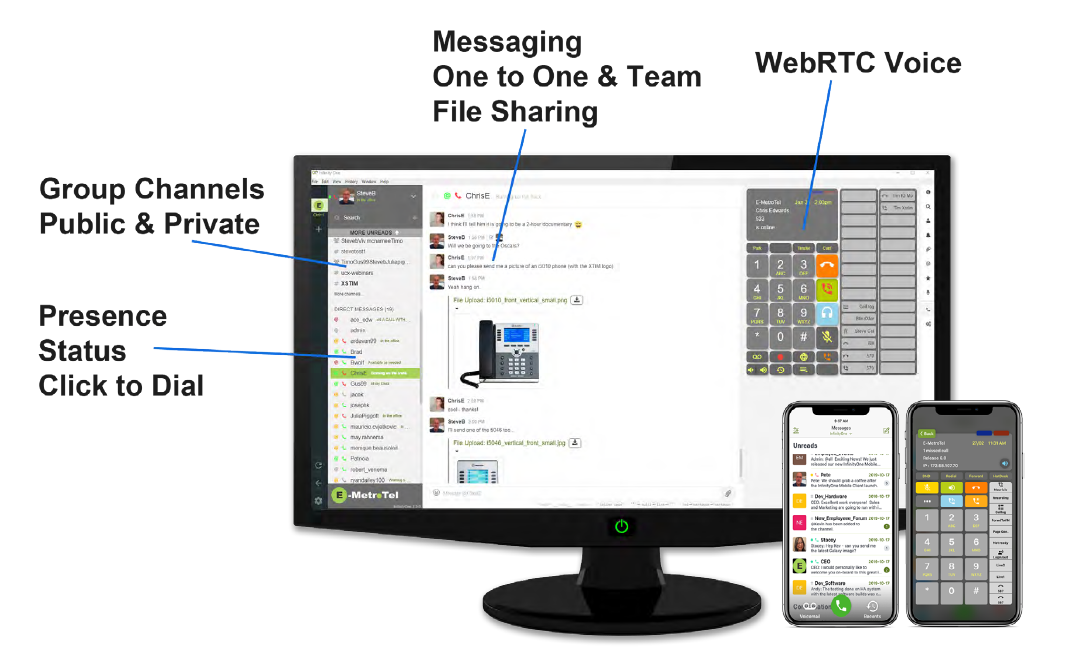 Simplicity
User pricing is $75 USD / $95 CAD.
Server Implementation:
VMWare
KVM
Hyper-V
Amazon AMI
Networking:
NATing
Browser Based or
Desktop App
Delivery:
Amazon
Microsoft Azure or
Your network / data center

To learn how our E-MetroTel services and product offerings can enhance your business, contact us by filling out the form below.