Sound Masking
Sound masking introduces an unnoticeable background sound, similar to airflow, to diminish the intelligibility of human speech and minimize distractions. The result is an environment that leads to higher productivity and increased privacy and comfort. Cambridge's QT Quiet Technology can help organizations reach HIPAA requirements and receive LEED points resulting in increased federal funding and tax breaks. QT systems unite overhead music, paging, and sound masking all into one multi-functional device. Using the ABC's of acoustic design (Absorb, Block, Cover), sound masking is the "cover" portion of the equation for privacy.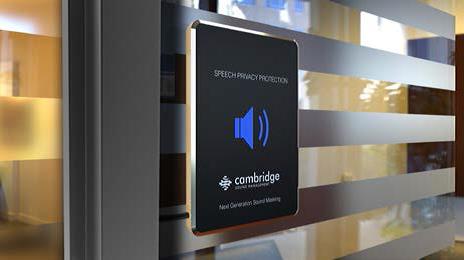 Keep private meetings private!

The Qt Conference Room Edition from Cambridge Sound Management is a cost-effective solution specifically designed to protect the speech privacy of conversations in the conference and board rooms. QT systems improve The Privacy Index in an environment. This helps to ensure that the speaker's information stays confidential and their conversation does not become a distraction to others. In a laboratory study between 2006 and 2008, researchers found that the addition of sound masking increased speech privacy from 35% to 90%.
The control module of the Qt Conference Room Edition package also consists of two lighted privacy signs and a series of direct-field sound masking emitters. When a room occupant turns on the control module inside of the conference room, it powers the sound masking emitters placed in the ceiling just outside of the conference room. The emitters add a low level of background sound making human speech less intelligible. Lighted privacy signs inside and outside of the conference room indicate the system is running, and let conference room occupants know their conversations are being protected.
Multi-Zone Functionality
Cambridge has developed systems to meet the needs of any environment, large or small. Different workspaces have different acoustic requirements. A call center won't have the same needs as a private office. The development of "zones" will provide appropriate sound masking solutions for every space. The recognition of spatial differences provides the highest quality of sound masking while meeting GreenSpec guidelines for power usage.
Simple Installation and Use
Cambridge's QT Quiet Technology Emitters and Control modules are easy to install and use. Adjustable emitters come with a variety of different mounting options, perfect for every workplace environment. The installation is simple and can be completed in a single afternoon. Multiple options for control modules ensure that the right fit is met for every size office, hospital, library, or anywhere that privacy is important. QT systems are easy to use, with some models featuring web browser-based controls or remote control. No tuning or programming is needed. Smart modules emit four uncorrelated channels and provide tuning on their own.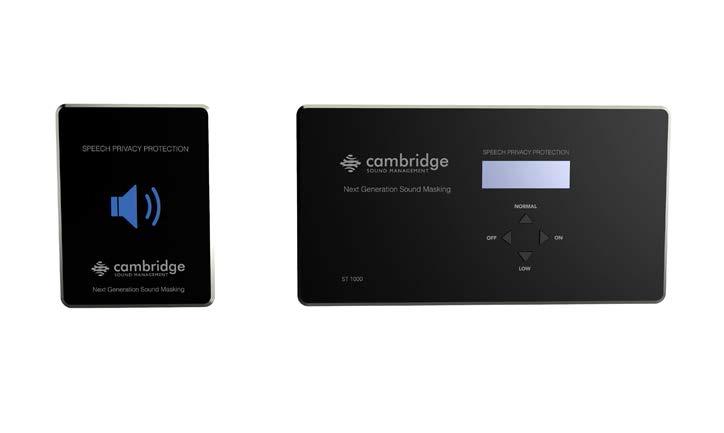 Increased Performance
Audible conversations can easily become a distraction in the workplace. Increasing the ambient sound in a room will effectively diminish the quality of the conversation to co-workers, which in turn reduces the chance for distractions. Researchers found that study participants had a nearly 10% improvement in their ability to recollect a series of numbers and words after the addition of sound masking.