Convergent has Expanded Capabilities
Our portfolio of expertise is ever-growing at Convergent. Our Team strives to be able to support you to the fullest in your business's communication efforts with our expanding solutions. Convergent is proud to be able to provide a wider range of professional support in cabling options, from data cabling to fiber optic cabling. Locally, we can give low voltage licensing in the St. Louis County and spread our reach across Missouri. Outside of St. Louis County we have capacities to serve Lincoln, Jefferson, St. Charles, and Warren Counties with our high quality products and services. Discover the difference Convergent can be as a partner in your communication methods with our managed service solutions.
Brands We Sell and Service
Business Phone Solutions
Managed Service Solutions
We provide professional and Technical support of the following:
Cabling Site Surveys
Site surveys isolate numerous variables that you may not be aware of and help minimize surprises during actual installation. Accurate site surveys can help you determine the feasibility of an instillation, budgetary constraints, and whether specialty tools or supplies are required.
Demarc Extension Services
A demarc extension is the process of connecting your organization's network to a data line – such as a T1, DSL, or POTS provided by the telephone company or another vendor. INC has experiencing performing demarc extensions in many environments including warehouses, offices, schools, shopping malls, and high-rise buildings.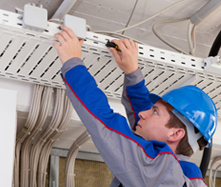 Network Wiring Testing
Wiring infrastructure is the foundation for every network. Our services include testing and certification of new or existing copper or fiber networks.
Structured Cabling Installation
Our structured cabling services can plan, design, install, maintain, troubleshoot, and upgrade any size network. From 1 to 1,000 drops INC's network of technicians is ready to go to work for you.
Wi-Fi Network Installation
We can design, plan, and install your network from start to finish. Each wireless solution is custom designed to meet the challenges and needs of your location.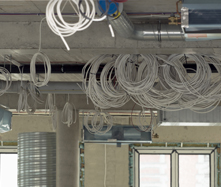 Fiber Optic Cabling
A complete range of installation services geared towards needs of retail establishments and other businesses. Our technicians can run the cable and install the equipment for a variety of audio and video systems, including:
Background-music systems and speakers
Overhead paging and public address (PA) systems
Security camera and closed-caption television
Low voltage Cabling
Licensed for doing low voltage cabling in St Louis County.
Copper Cabling
Copper cabling including Cat5e, Cat6, Cat6.
Security Cameras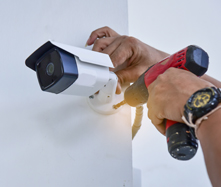 Contact Us